Contrary to heat pipes, plate heat exchangers (recuperators) and rotary heat exchanger (regenerator) no junction of the air flows is required at the bildings energy recovery system for coil energy recovery loop systems. Through the absolute separation of extract air flow and outdoor air flow the coil energy recovery loop system is the firs choice for buildings with high hygienic demands. As the several heat exchangers are connected to each other by a heat transfer fluid (brine), feed-in and feed-out of thermal energy in the coil energy recovery loop system is possible. In table 1 different energy recovery systems are compared.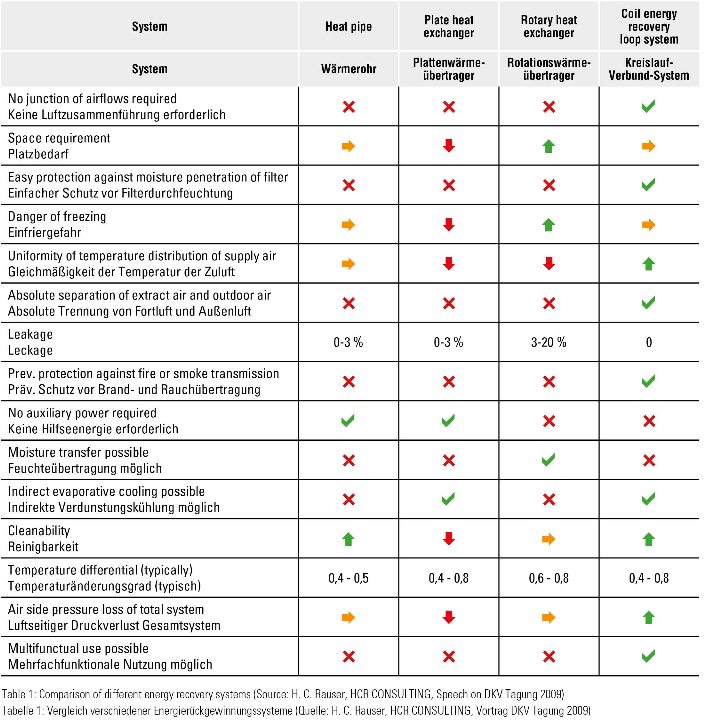 Temperature differential
The temperature differential indicates according to DIN EN 308:1997-06 the relationship between the temperature change of the outdoor air and maximum possible temperature change between the extract air and the outdoor air
ηt = (t22- t21 ) / t11 - t21 )
Since the use of condensation on the extract air side is not possible most of the time, the temperature differential is defined under dry conditions. In chart 1 the sensible heat recovery is illustrated in the h-x-diagram for winter operation. With condensation on the extract air side the temperature differential increases. Chart 2 illustrates a simple coil energy recovery loop system with 2 heat exchangers.
Regerence operating condition
In order to compare different systems the temperature differential shall be indicated at the following reference conditions [2]:
extract air mass flow/outdoor air mass flow = (at air density 1,2 kg/m3)
outdoor air temperature = 5C
extract air temerature = 25C
no condensation on the extract air side
no feed-in and feed-out of thermal energy in the coil energy recovery loop system
no proportion of re-circulated air
At lower air velocities in the heat exchangers higher temperature differentials are reached. In addition the overall effiency of the coil energy recovery loop systems increases due to the lower air side pressure losses. In chart 3 the teperature differential at reference operating condition is exemplarily shown in relation to the number of tubes in air direction at different frontal air velocities of a heat exchanger with the tube geometry F3833-12.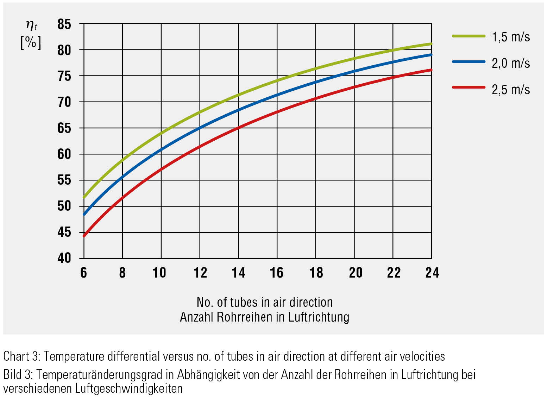 The heat exchangers are made of corrosion resistant material and are cleanable. The special design with fins which are technically flat and produced out of one piece in air direction is comlying with the requirements of
DIN EN 13053:2012-02, 6.4
DIN 1946-4:2008-12, 6.5.8.1+2
VDI 3803-1:2010-02, 5.2.3
VDI 6022-1:2011-07, 4.3.16
AHU-Guideline 01:2014-08, 5.6
The minimum fin pitch is 2,0mm, for air coolers with dehumidifaction 2,5mm and for air heaters used to dry the air before the firs filter stage 4,0mm. The maximum heat exchanger depth at a fin pitch of 2,0mm is 300mm for staggered tube geometry and 450mm for in-line tube geometry. At higher fin pitch the depth increases linearly.
Friterm produces different tube geometries for coil energy recovery loop systems to perfectly match the market requirements. In table 2 the different tube geometries are compared.
For energy recovery loop systems with high temperature differentials a special circuitry for multiple cross-counterflow is a must. Chart 4 illustrates such a heat exchanger with 4 circuits and 2 internal ventings and drainings.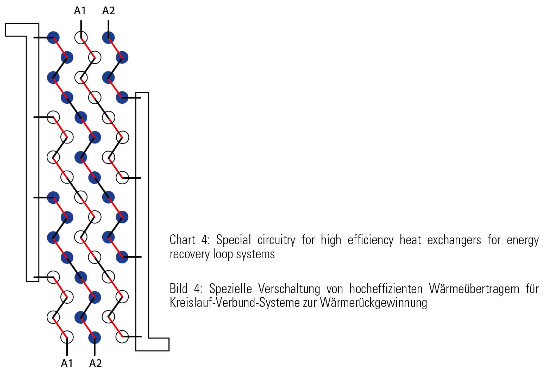 Software
Friterm's coil design software for air heater and air cooler using water successfully passed the repetition test of the Eurovent Certita Certification programme for Cooling and Heating Coils (COIL) in 2014.
Further test of heat exchangers in a coil energy recovery loop systems are currently being conducted in order to develop a special software for heat exchangers in coil energy recovery loop systems. A screenshot of the current internal software version is shown in chart 5.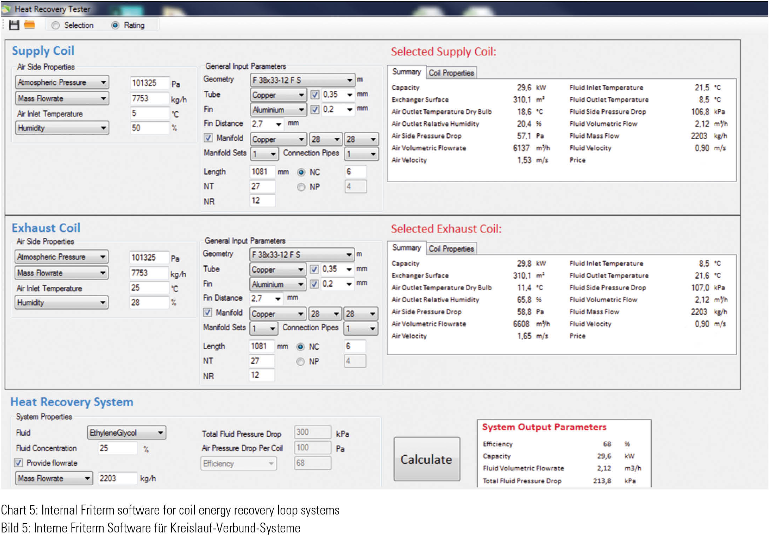 » Friterm reserves the right to make modifications in the catalog at any time without prior notice.
» All catalogs are formatted as pdf(Adobe Acrobat). If you do not have the Adobe Acrobat Reader you can get it free by 
clicking here
» If your internet connection is slow, it is recomended to save the catalogues by right clicking and "Save Target As".